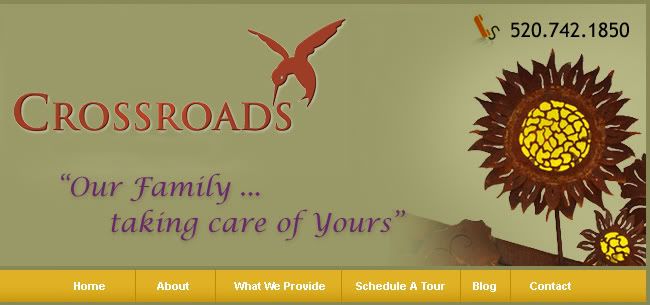 Welcome to our Crossroads Adult Care Community where we know about choices and caring. The dream of creating a community in a garden setting with adjoining walkways among all aspects of the beauty of Nature has been realized. Imagine walking or sitting under a tree, looking over grounds of lush green grass, flowers, an abundance of trees, the song of birds ... the tranquil sound of water flowing throughout the property.

Imagine home. A brand new home where you truly are family, with your own comfortable private or semi private room, furnished with your belongings or ours. Imagine a worry-free life where all of your needs are met by family; a real family of two generations along with professional caregivers dedicated to providing you with the loving personalized care they once provided to their own Father with Parkinson's.

"Our family ... taking care of Yours." We mean it.



"
My parents, Anthony and Balbina Tiscione were married 62 years; raised five children and lived a full independent life before entering the Crossroads Adult Care Community ... The decision to release themselves into the care of others was a difficult change to their lifestyle and independence ... The Crossroads Adult Care Community under the Fatato family direction created a sense of security and happiness that affected both Anthony and Balbina in a positive and peaceful way in their passing years...
"
Continue Reading »