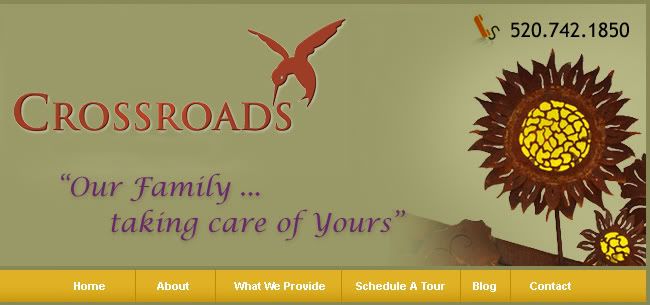 Activities of Life
Crossroads offers regularly scheduled activities and continually searches for ways to add to our Residents' life experiences. From arts and crafts, bingo, ice cream socials and tea parties to making bird feeders and memory boxes, there are always events to anticipate. Special planned events with outside entertainment are held in our outdoor Pavilion area and we anxiously anticipate the ground breaking of our raised vegetable garden where Residents can assist in growing our very own organic produce!
Arts and Crafts– Keeping hand-eye coordination active by involving residents in various Arts and Crafts activities.
Painting/coloring: pictures, still life, various objects such as wooden boxes, frames, bird cages etc.
Beading, Creating and making various crafts, etc.
Decorating/Baking/Cooking– Using smells and taste buds to awaken the senses.
As a group activity making/decorating and baking: Breads, Cakes, cupcakes, cookies pies and homemade ice cream.
Bible Study– A general Bible study that is focused on stories from the Bible while respecting each person's individual beliefs
Movie & Popcorn– Gathering residents for a movie matinee where they can relax watch Classic/new flix and reminisce with friends.
Music– Using music to exercising the mind body and soul:
Playing classic songs of their era in order to trigger various memories related to each song, triggering memory by singing along and or dancing to the beat.
Using hand-eye coordination while playing various instruments such as, keyboard, glock and spiel, wash board, maracas, triangles etc.
Exercise– Keeping residents active by exercising body in a fun environment through various activities
Ball toss
Stretch
Bowling
Basketball toss
Swimming
Walking/Stretching/Conversing– We encourage our caregivers to spend one on one quality time with each resident, by choice of the individual resident, either taking them on a walk through the garden, conversing about various subjects, stretching with them, or reading to them.
Socials– Bringing the residents together in order to interact and enjoy various snacks
Ice Cream/ Homemade Ice Cream
Tea/coffee and homemade cookies/Strudel cake/donuts etc.
Root beer floats, shakes and smoothies
Fondue with fresh fruit and chocolate
Bingo– Keeping the mind active while having a great time. Residents receive Bingo Bucks with each win.
Bingo Store– A little retail therapy! Bingo Store is held at the beginning of each month. Residents are able to spend their Bingo Bucks on various items, such as: toiletries, snacks, drinks, jewelry, books, clothing, makeup, trinkets etc.
Crossword puzzle/Trivia– Working together as a group in order to keep the mind active
Pet Therapy– The Humane Society has volunteers who come in and bring their furry friends to visit the residents.
Step up- a non-profit organization brings horses to the property for residents to see and pet. A miniature horse is brought into the rooms of each resident who is restricted to their beds.
Volunteers– Various volunteers come in and spend time individually with residents
Shows- A variety of musical performers are scheduled one a month: Duets, solos, keyboards, guitars and banjos, Hawaiian Performance, tap and jazz