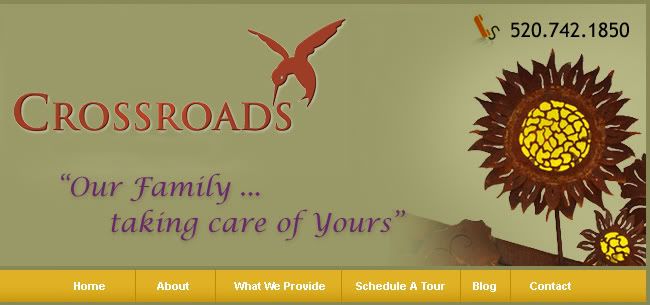 Adult Care Insights
"You Should Have Seen Me Then!" – The Insides of Aging
Several days ago, during a conversation with Bonnie and Tom Fatato, owners of Crossroads Adult Care Homes, I asked "After 19 years in the Care Home Industry…what would you say has been your greatest gift?"
After a slight hesitation, Tom Fatato replied, "Getting to see…inside our Residents."  We then had a really nice discussion about aging – how we in our culture tend to avoid wanting to touch or truly "see" the insides of aging.
Tom and Bonnie went on to explain how one day they may be conducting their day-to-day business at Crossroads and all of a sudden, a story will come out.  One of the Residents, just prior involved in some mundane life situation, remembers a life story…typically followed by "You should have seen me then."  A smile on the face, a knowing look; a look that speaks of wisdom, the kind of wisdom that can only come through experience.
I recall once asking an incredible lady, Balbina who at the time was 84 years old, "Do you remember when you were 18?"  "If you could live your life over, what would you do differently?"
With a faraway look lasting only for moments, Balbina looked straight at me and said "I wouldn't have been so upset with Anthony during our marriage."   Anthony and "Babs" lived at Crossroads Adult Care Homes in their later years in one of the guest homes especially designed for couples.  Enjoying their privacy and independence while having all their aging needs met, Anthony cared for Babs who faced the challenges of Parkinson's.   Mounted proudly on their walls were photos of Balbina as a young, beautiful bride.  "You should have seen me then…"
Experiencing these types of discussions or hearing the life stories serves as a constant invitation to gain from the wisdom that is offered by our incredible Seniors –the wisdom that is right there in front of us every day.  In our hectic worlds with intense schedules, sometimes we forget to stop – to see the beauty or to take a moment to learn from our Senior Citizens.
One day we will reflect on our stories.  We each will say "You should have seen me then!"  We each will want to share our wisdom, to be seen, to be heard.
I liked the fact that the Fatatos concluded this as their most treasured gift from their life experience in operating Crossroads Adult Care Homes.  It wasn't about success or material gain but rather about receiving something much more valuable…the insides of aging.
We will spend great amounts of time searching for answers among our piers, friends, or counselors, etc., when the insights to life could just possibly be right there in front of us.
Now?  When I see an aging face, I see the lines of life and layers of wisdom and I truly want to know the stories.  In the end, our stores are very much the same.
We at Crossroads would love to hear your stories – would love to post them on our Blogs for others to enjoy.  Write a comment or contact us to share your story with others.   If you are so inclined, also send a photo.  We like seeing the insides of aging as well as reading about them.