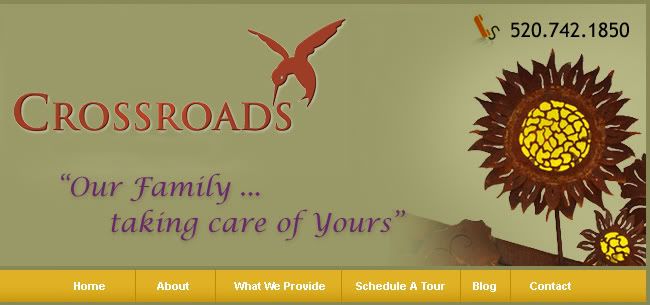 Celebrating Individuality
Sandra Carol Eagle – A Crossroads' Stargazer
Resident Sandra Eagle born Sandra Carol Corona in Thorton-Surry Heath, England on September 10, 1945, has always loved Stars … the Hollywood kind. Having collected enough original Hollywood autographs to fill two entire walls in her Tucson home with husband Roger Eagle, it's safe to say Sandra is an expert. However, to begin her story…
Sandra's parents met and married in England where her Father, a native Tucsonan, was stationed in the military. When she was six months old Sandra, her Mother, and 18,000 other war brides returned to the United States aboard the famous Queen Mary.
Graduating in 1963 from Rincon High School, Sandra embarked on her career as a librarian with the University of Arizona then later transferred to what was then called Mt. Bell Telephone Company where she met husband Roger Eagle. Roger and Sandra married in Bisbee, Arizona and have been married for almost 30 years.
Sandra has several loves in her life. Along with husband Roger and their son, Veterinarian Roger Paul Eagle, owner of Ina Road Animal Hospital in Tucson, She LOVES cats. When Roger met Sandra at Mt. Bell, he was also introduced to her family of… 12 … cats!
Although Sandra's love of felines was great, it paled in comparison to her passionate hobby of collecting famous autographs. "I came over on the Queen Mary from England in 1945." "That's what led me to want the autographs of Queen Elizabeth and the Queen Mother."
From stars like Sigourney Weaver, Cher, Sally Field, Jessica Tandy, Sonny Bono, Kevin Costner, James Arness and Dom DeLuise, to Bill and Hillary Clinton, Sandra's collection grew and grew.
She became so well known that years later, 57 year old Sandra was featured in the Arizona Daily Star "Stargazer has gone after the big names for decades".
Sandra is now one of our valued Residents at Crossroads Adult Care Community. Every day we enjoy hearing her share her stories about movie star personalities and how she was able to obtain their autographs.
Just yesterday, I asked Sandra if I could take a picture for this article. She smiled…"Sure!" As we walked the property arm in arm, I personally got to hear all about John Wayne and Cher. It was fun.
At one point, she stated "I like to sing as well!" What a delight she was as she broke out in song … she was beautiful.
Is it any wonder that we Celebrate Individuality at Crossroads? We feel fortunate.