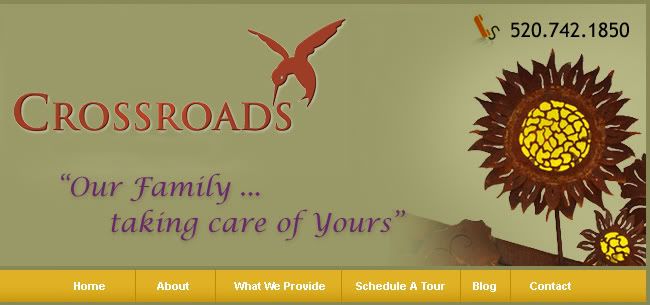 Why Crossroads
Why I Said "Yes" To Crossroads – A Personal Perspective

Why Crossroads? Why an intimate Care Home setting as opposed to continuing my vocation in the larger Retirement Communities?
When asked by Bonnie and Tom Fatato to consider representing them in marketing Crossroads Adult Care Homes, my process in reaching a "Yes" response, was easy. I have to love what I represent.
For many years, I held the position of Executive Director for one of our largest and most highly regarded Tucson Senior communities, Broadway Proper Retirement Community. You see, I have always loved Senior Citizens. After eight years of close interaction with well over 200 Residents on a day to day basis, I have concluded that our Senior population is literally the most valuable, untapped wisdom based/intellectual resource in our country.
I say "our country" because I have come to realize in my world travels that other cultures view "aging" in a much different way than we here in the United States. (Stay tuned for future blogs: "Celebrating Aging.") Sharing my then young daughters of ages five and seven who were given undeniable life insights along with the gifts of giving, brought this realization … home.
Now to the point…why Crossroads?
Knowing the Fatato Family as I have for many years, I have had the opportunity to experience the way they operate in their business but most importantly, in their lives…their family. It's personal with them – plain and simple. The same consideration and love given to their seven children and now 13 grandchildren (more on the way) is mirrored in their way of giving to their Residents and Resident Families. They care…from the heart.
Many are focused on "business" — rightfully so in our highly stressed economic world. However, the Fatatos had a dream of creating something above and beyond the typical "business" Care Home model. How about a community with gardens designed specifically for Seniors to continue to touch Nature…to feel the serenity that only Nature can provide. How about a family within a family — your family interacting with other families…close…personal. Bonnie and Tom didn't merely talk the dream; they made it happen.
I can tell you that while attempting to have this same close relationship with the incredible Senior family during my years in a beautiful, much larger community, it was virtually impossible. It is difficult to touch 200 lives in the way one would within an intimate family structure.
Had my parents decided to take the step toward moving into a Care Home Community, I would have wished for them…family, home cooked meals, gardens, nature, touch…the gift of belonging…every day.
Do I want all of you to know the Fatatos and to experience Crossroads in your families?
You bet I do. In fact, I want to know you. I want to share with you what I have learned in this industry, from the Senior community…from the Fatatos.
Go to "Ask A Question" on our home page. I'd love to hear from you!